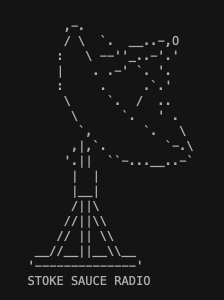 The Stoke Sauce Radio Show is an artistic vehicle where I share my thoughts about the music and melodies I have been listening to during the week. I also elaborate on some of my ideas, experiences and intentions about the music I have been making.
The first episode of the Stoke Sauce Radio Show took shape on the 17th or March 2021 when I sat down and recorded it in one single sitting, without any real focus other than a few ideas and intentions in my head. I liked the first episode but it would be almost another month before I would record and release the second episode. Neither of these first two episodes were aired until the show went live on Anonradio.net on the 18th of May 2021.
What is A NON radio? Anonradio is a loose collection of radio artists and computer hackers and hobbyists, who congregate at www.SDF.org to listen and comment on each others shows or simply to chat with one another while they either listen (or choose not to) listen to shows on anonRADIO.net
In their own words they explain themselves thus:
"All DJs on aNONradio.net are members of the SDF Public Access UNIX System Community. Please join our growing online community of free software authors, teachers, librarians, students, researchers, hobbyists, computer enthusiasts, artists, musicians, and the aural and the visually impaired. We fight for and promote the distribution and development of free software and the non-commercialisation of the Internet. Visit sdf.org for more information."
I've committed (in my own mind) to doing one episode a week until the end of 2021 but who knows it may continue indefinitely because I enjoy the weekly commitment of producing "a musical event" each week at same time.
The Anonradio Archives: The anonradio archives go all the way back to 2015, which means you can listen and re-listen to any of the past shows at any time, and there is no agenda or advertising for marketing taking or getting in the way of your show and should you choose to, you can remain relatively anonymous and hide behind a pseudonym or some sort or another.
Have I mentioned COM? COM is short for COMmode" it's an application which exists only on the SDF servers after you've logged into their unix server. The COMmunity use COM chat with each together online.
Using COM is little like being in a big dinner party and where you can hear all the conversations going on at the same time, but you can still hold a conversation with the person next to you.
If you want to use COM you will need to TELNET or SSH to SDF servers, then login to the SDF server and then start up COM or any other UNIX tools and services which exist on their servers.
Yah! It's a steep learning curve, but if you try you will be able to figure out how it works, and when you do get there you'll be "free" from the corporate social manipulations which exists elsewhere.
On SDF. You can be a part of a world which existed long before the internet arrived, so in a way it's like going bad to the purest form of shared computing and communication, long before the internet, before email social media began, or ebay or google began.
Enough about SDF, this is the Stoke Sauce Radio Show!
You can also listen to more shows here http://anonradio.net You can join SDF here http://sdf.org it can be a little tricky to get started. If you need some help go here https://wiki.sdf.org
You can read some of my other writing here – https://anonradio.net/author/stokesauce
The Line Up (Radio Schedule)
This is the weekly line up as at December 2021, the art work in the schedule was kindly produced by fellow DJ snowdusk.