"I am the vine; you are the branches. Whoever abides in me and I in him bears much fruit, for apart from me you can do nothing".
Thats John 15:5 from the Bible.
Today's episode is with Dan Ulyate. Dan is the creator and founder of the company and brand, Abide.
John 15:5 was the verse that inspired the name 'ABIDE' believing that fullness of purpose is found when abiding in our Creator.
Dan and I started the morning off in the ocean, the best way…
If you're from the Sunshine Coast, odds are you've seen Abide somewhere along your journey, Dan is a passionate advocate of creativity and innovation, and his heart beats on giving people purpose as you'll hear more about down the track.
Abide culture is a clothing company and brand inspired by surfing, skating and creating, and believe that every individual is purposefully created, created to create and the essence of your purpose comes from abiding in God and being deeply rooted in Him. Through Abide, Dan is equipping people with quality clothing, and will hopefully inspire you to find purpose and live as 'people of purpose'.
In this episode Dan talks about his journey through and after school, to owning his own business.
He also talks about creativity and innovation, how we were created to create, and why being innovative sets us apart from the rest.
Dan is a perfect example of someone who breaks the stereotypes of christians and even surfers and skaters, and is fulfilling his calling to start a brand that gives back to people.
Dan mentions some of the mentors he had during the beginning stages of Abide, and how that encouragement and guidance can be so significant.
We recorded this episode after a coffee and sat at bench by the beach, with complementaries of waves.
I think it's time we introduce the man himself, Dan Ulyate.
— o0o —
"We were created to create."
Was something Dan said to me a week before I had the privilege of having him of the Podcast.
We recorded this episode after a coffee with two legendary ambassadors of ABIDE. After a few technical difficulties, we starting rolling. For those reading this blog who haven't listened to the episode with Dan, or if you just want to listen to it again, here it is: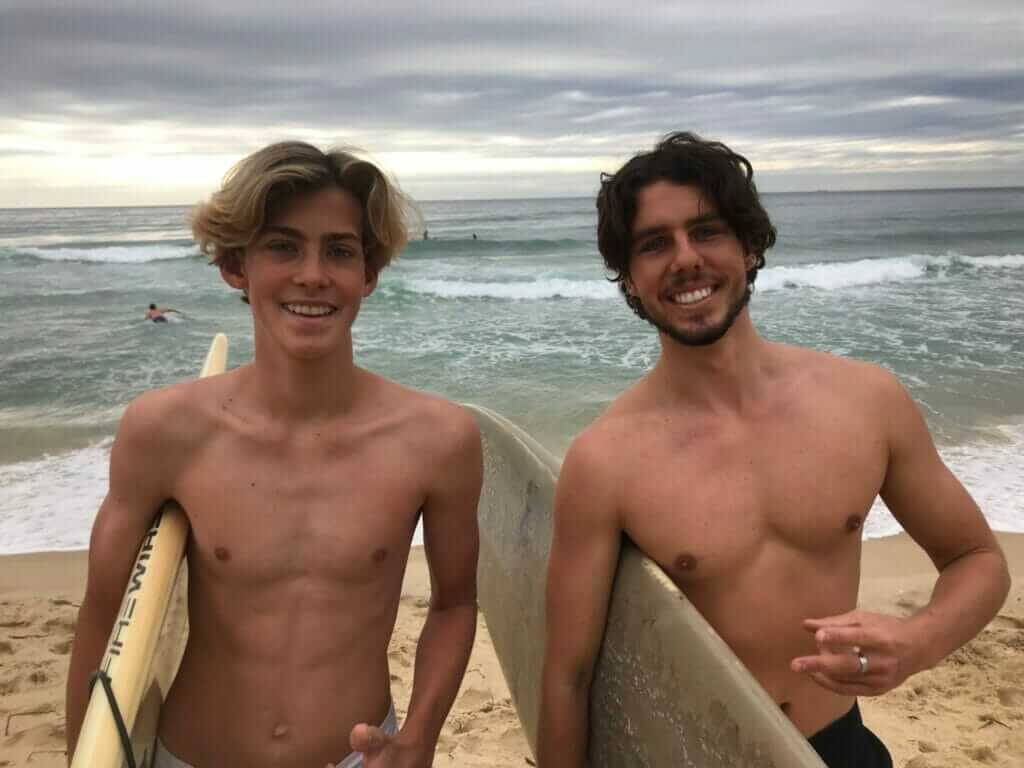 Life lessons and knowledge I took out of talking to Dan:
We are created to create.
Everyone has a certain amount of time and energy in a day, we need to learn to dish out our time and energy to the different things we want and need to do.
Go check out Abide's website and Instagram, they have some quality shirts, hats, videos photos and more. 
Here are the questions I asked:
Dan Ulyate
Dan, it's so nice to have you on the show, welcome. Tell me a little bit about yourself, where did you grow up and what was your childhood like?
And you find yourself here, you're the founder of Abide, how did this all come about?
Your all about creating a culture that's a light in the dark, what is that light? – dark?
Moving back in time a little bit, When you were fresh out of school, did you find yourself wondering, "what am I gonna do?!" Because I think a lot of young people are in that position now. What's your advice to people searching for their vocation? searching for their path in life?
We have a generation rising up that are hungry to create, and your all about capturing that, when we were chatting at the tavern one night you said something that stood out to me, you said: "we were created to create." Why is is so important to create?
Coming back to the business side of things, from what I understand it got quite difficult in the early stages of starting Abide, what did you learn in those difficult times, and what advice can you give other small business start-ups in a similar situation.
Vision: to live with purpose, inspire and encourage a life of Purpose. How has that vision assisted in carrying the business?
Can you offer advice to business who are profit based only i.e. they don't necessarily have the values which drive you?
How do you sustain yourself? Have you ever lost hope? Has anything tripped you up?
You've got quite an altruistic take on life and business, tell me was that something you always had?
What's next? Can you tell me a little bit about the future ambitions for abide?
I'm interested to know Dan, what is your fuel, your drive, what gets you up in the morning?
#peopleofpurpose
#abideculture